Webix Pro features are available only for users of Webix Developer licenses.
This set of functions simplifies and speeds up the process of web development allowing you to build powerful desktop and mobile apps.
Colspan and Rowspan in DataTable
By using colspan and rowspan in DataTable you can present complex data in a clear manner just like in HTML tables. But keep in mind that Webix DataTable processes huge datasets faster and better than HTML tables do.
Read more
Header Menu in DataTable
Header menu allows you to control the visibility of columns in DataTable. Users of your app will be able to reconfigure a Webix grid on the fly by selecting from this menu the columns they want to see and those they don't. We've made it even more user-friendly by adding the possibility to store the selected grid settings and then restore them during the next visit.
Extra Locales
Around 300 locales (as a standalone package) with Date and Number formats for the majority of languages and local cultures are at your disposal. With this abundance of locales, you'll have a full support for localization and internationalization.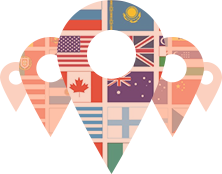 Advanced Editors in Property Sheet
You can use such simple editors in Property Sheet as Select, Combo, Colorpicker, Text and Password. If you wish to have even more advanced editing features, you can use Rich Select, Multiselect, Grid Suggest, Data Suggest and Datepicker.
Read more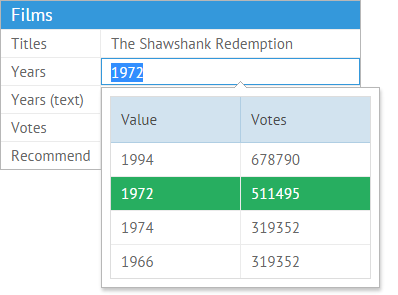 Saving State Between Sessions
Webix API allows saving the state of the App (sizes, visibility, selections ) to cookie, local or session storage. So when the users of your app come back to the saved page, they will see the same interface as the app had on their previous visit.
Read more
Advanced Filter in DataTable
Data filtering has never been so easy as with new advanced filters in DataTable. With the help of rich-select filter you can filter data in Webix DataTable by choosing the right option from a dropdown list. With Webix multi-select filter, you can filter information by several options at the same time.
Read more
Vertical Headers
Vertical headers feature allows you to place a text in a datagrid header vertically, which is very handy while creating data tables with tons of data.
Read more
Advanced Editors in DataTable
Youcan use such advanced editors in DataTable as Multi-select editor, Grid Suggest Editor and DataView Suggest Editor. With Grid Suggest, you can edit the data in DataTable cells by using another grid as an editor. With the help of Dataview Suggest Editor, you can use either images or complex HTML content as dropdown select options when editing the content of DataTable. Multi-select editor is an ultimate solution if you want to edit the content of DataTable rows by selecting several items in list simultaneously.
Read more
Grouped Columns in Datatable
Grouped columns provide you with an opportunity to organize columns in groups which can be сollapsed or expanded at once. This feature helps to organize data and save the app space.
Read more
Multiple-field Inputs in Form
Now you can build a form that allows adding multiple entries and submit them at once. When you press the'+' icon, an additional text input will be added to the form. And on pressing the '-' icon, the input will be removed.
Read more
Custom Scrollbar
Don't like the look of the standard scrollbar? It's not a problem anymore!. Now you can have custom scroll bars similar to Mac iOS ones in your web app. They are hidden by default until activated by hovering over the widgets scrollable data. You can use them both for vertical and for horizontal scrolling.
Read more
Initialization from XML
If your backend uses XML, you can use XML for data and configuration of Webix components. Everything that could previously be done with JSON only, now is possible with XML as well.
Read more