Other Webix widgets for planning tasks:
The Scheduler widget application areas
JavaScript Scheduler is used to develop the applications that require the implementation of scheduling, following the agenda, booking or time tracking functions. Webix Scheduler is easy to customize, which allows to create any applications with the calendar functionality based on it.
Classic online calendar
Calendar and planning tools built into any web application
Working schedule planning
Arranging meetings, reserving meeting rooms
Working time tracking
The systems for keeping the records of the employees' working time
Equipment reservation and accounting of operating time
Apps for reserving and registration the equipment rentals
Project management systems
Applications for planning and setting tasks
Applications for appartment booking
Search and booking systems for hotels, guest houses, appartments
Scheduler JavaScript coding samples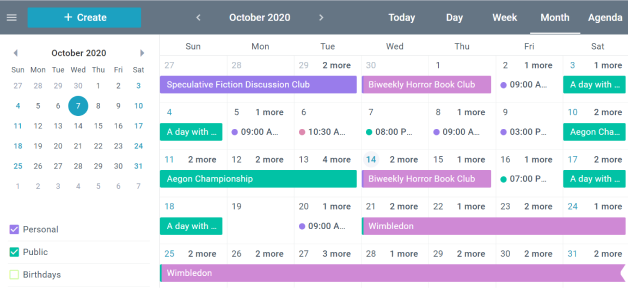 Responsive
Convenient calendar viewing on different resolution screens
Switching Locales
Ability to switch languages inside the calendar
Working Days in Week
Ability to mark tasks during the day on a 5-day working week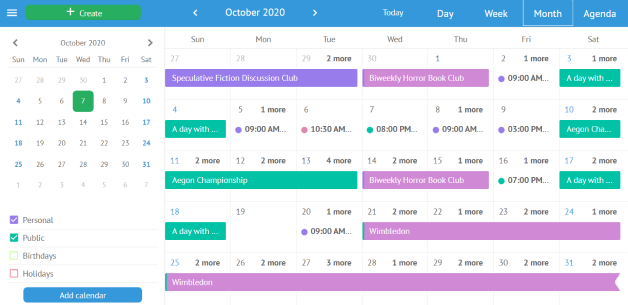 Compact Skin
Ability to see a greater number of calendar items on the screen
Advantages of the Webix Scheduler
Ready-made solution for time management
An elaborate solution with numerous features ready for integration into any system
Easy setup and customization
Simple design setup, simple functionality customization.
Backend integration
Clear-cut Integration with Backend Platforms: PHP, Node.js, Golang and .NET.
Webix environment
Operating in the same eco-environment of the Webix library.
Frontend integration
Integration with jQuery, AngularJS, Vue.js, React and third party libraries.
Web accessibility
Meets Section 508 and WAI-ARIA standards and supports keyboard navigation.
Webix Scheduler licensing
Webix JavaScript UI widgets and controls