Application areas of the Webix Chat widget
Sales, consulting customers
Communication with potential buyers and website visitors
Support service
Live Chat with the users of the business application or site
Corporate chat
Exchanging messages within
the corporate portal
In-App Chat
A convenient tool for private messages inside any business application
Webix Chat / Messenger Features
JavaScript Chat / Messenger Live demo
Chat / Messenger JavaScript coding samples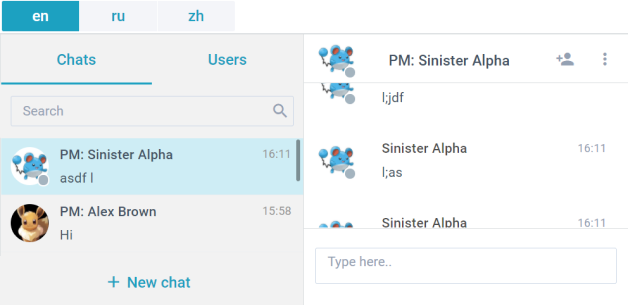 Switching Locale
Ability to switch languages inside the working field
Compact Skin
Ability to see a greater number of elements in the visible working area
Date formatting
Ability to edit the time of sending a message
Single commone room
Ability to display only one chat in a single window
Advantages of the Webix Chat / Messenger
Ready-made solution for user management
An elaborate solution with numerous features ready for integration into any system
Easy setup and customization
Simple design setup, simple functionality customization.
Easy backend integration
Explicit Integration with PHP, Node.js, Golang and .NET.
Webix environment
Operating in the same eco-environment of the Webix library.
Easy frontend integration
Сan work with all modern frameworks. You can use it standalone or inside the React of an Angular app.
Cross platform and browser support
Support of All Modern browsers.
Webix Chat / Messenger licensing
Webix JavaScript UI widgets and controls